Today we'll show you where to get great custom Carrd templates. Whether you are building a Carrd site for yourself or for a customer – you will always be thankful to save some time. This is where templates will save you. Of course, Carrd provides templates out of the box. And those are awesome – but used by probably millions of sites.
You want a professional designed website but without the cost of a fully custom design. And there are quite a couple of sites selling custom made Carrd templates. Here's our guide to where to buy Carrd templates. Save time designing – and launch today!

For everyone new(ish) to Carrd a few words about templates and what they can do for you.
What are Carrd templates?
The answer to this can be its own article, so here are just the most important things you need to know
Templates are a quick way of reusing an existing design, sometimes called themes
When using a template you do not start your page from a blank canvas
You just fill in headlines, images and all other content and boom your website is ready to launch
A template saves you time designing and arranging elements on your page
Buying a template gives you access to more templates than Carrd offers out of the box
Templates sometimes come with custom components like sticky menus, dynamic faq sections. Stuff you don't find in the Carrd editor.
How to use Carrd templates?
When you buy a template, you will get access to it directly after the purchase
The template appears in your dashboard and you can use the template as a starting point when creating a new site
When you use a template, Carrd effectively makes a copy of it and let's you edit that copy
Templates are edited in Carrd just like regular sites using the Carrd editor
Important! Changes to the original template are not reflected in sites that were already made from the template
Alright, that'll do to introduce the concepts of Carrd's templating. Now let's dive in and have a look at the places where you can buy these templates:
Zite
Zite has the largest collection of Carrd templates you'll find. The template styles range from minimal monochrome to eye popping colors and carrd templates using gradients.
You can browse templates by the type of website you want to build in Carrd.
Building for a business? Here are some examples: Zite has agency website templates and templates for your next SaaS landing page or websites designed as capture email addressed as a newsletter signup or waitlist page. There's even e-commerce templates that will kickstart your shop website.
Building for yourself? Check out the templates for personal sites and blogs or those for your resume or CV. You can use one of the portfolio templates to show off your work as an artist or freelancer.
Two templates that Zite offers are a bit special. They are packages of UI components that you can use to build your site. They offer a range of elements in the same style. You can arrange these elements in whatever fashion you'd like. Pre-made elements include navigation bars, footers, pricing tables, hero sections, and much more. These are perfect for agencies building multiple client sites from the same template without looking the same.
All of Zite's Carrd templates are professionally designed. They are also conversion optimised. So your visitors will be more likely to interact with your site by filling a contact form, subscribing to your list, read about your company or even buy a product from you. These conversions are the primary reason you are building your site, right?
Template facts
| | |
| --- | --- |
| Template site name | zite.design |
| Number of Templates | 71 |
| Pricing | $19 |
Zite also offers other Carrd services: we do custom design for your Carrd site and offer to clone any landing page into Carrd. Both for a flat fee.
All Zite templates are sold via Carrd so you can use them instantly after making a purchase. (This is not the case for all template vendors. themes.wtf for example sell via stripe and grants you template access manually.)
Pack of Carrds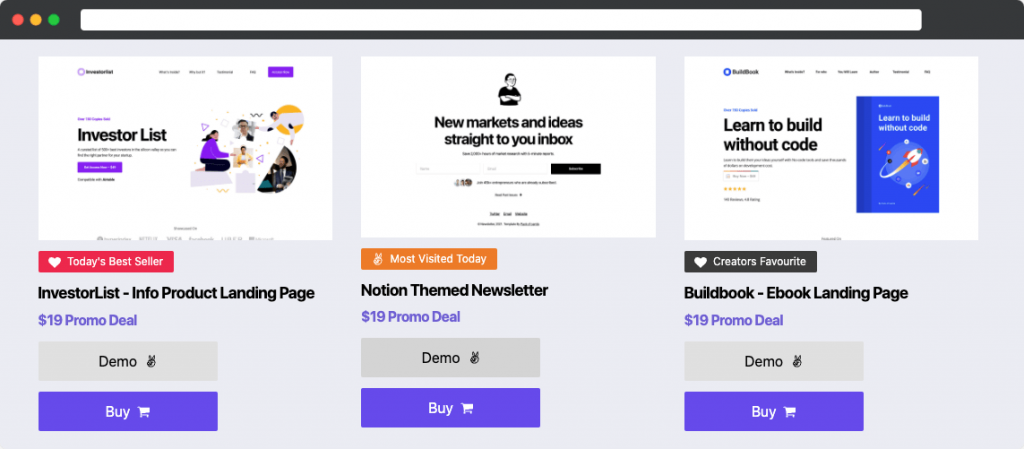 Pack of Carrds offers a handful of templates. One is for notion themed newsletter. There are also two free templates on offer – but those have very limited functionality.
Cesar Hawke – nerdbasis.net Templates
Made by Zite partner Cesar Hawke. Nerdbasis' USP are templates for a couple of SMB use cases like a landscaping business template. Another is a carrd.co template you can use for a flower shop. Cesar also offers custom designs.
Oscar O. Arévalo
Oscar not only sells your typical templates. He rather offers packages of UI components to build your site from. Just as explained above for our UI Components, this means more flexibility and also the need to come up with the actual site design yourself. The increased flexibility also comes with an increased price. UI Packages are of various contents, languages, and price points are $59 to $119.
He does sell some regular Carrd templates, also: Portfolio template, Products template, Services template, SaaS template, Community template. They are a bit on the pricier side.
themes.wtf – Carrd themes 🙂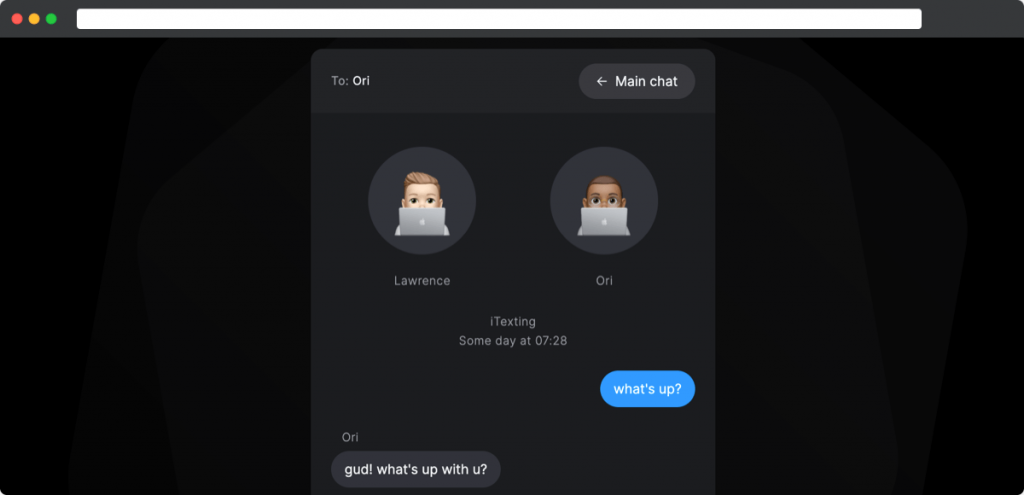 Everyone is calling Carrd templates, well, Carrd templates. Except these two guys. They are calling it Carrd Themes. But, potayto potahto, I guess – they offer Carrd templates, too 🙂
The playful website is made by two friends Ori and Lawrence in the style of a messaging app. The templates, erm, themes are rather for personal than business use. You can use them for really small Carrd sites like a link-in-bio style page or business card one-pager. Also they are not that expensive. You'll be shelling out $10 for their templates.
Like many others they have their site directly on Carrd. But buying a template does not go through Carrd – payment is handled externally. So you cannot use your Carrd balance plus it not be usable instantly because they'll have to grant you access manually.
| | |
| --- | --- |
| Template site name | themes.wtf |
| Number of templates | 6 |
| Pricing | $10 |
AlxAndrws – launch.fyi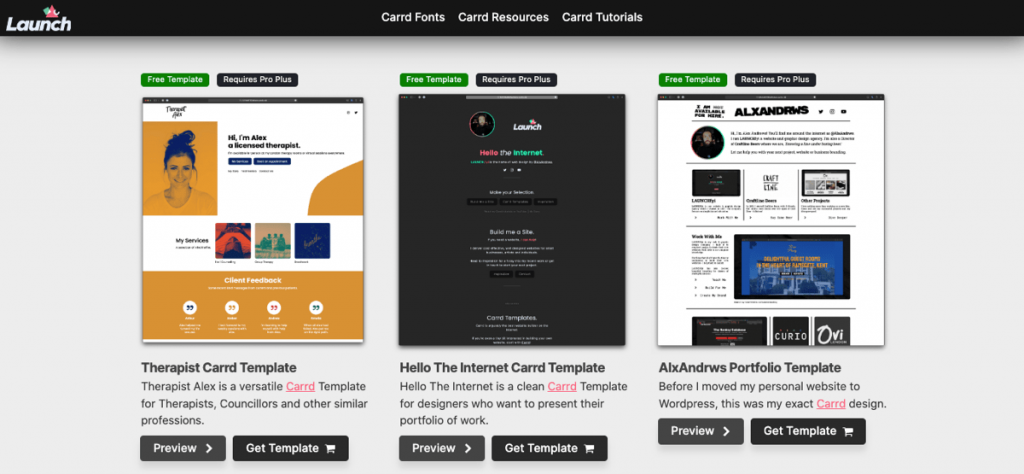 Alex aka @AlxAndrws is a designer a beer brewer and among other things also runs a couple of very helpful sites for people building with Carrd. If you are on a very tight budget and looking for a free template – check out his selection. Some of them will even work on Carrd's free plan.
| | |
| --- | --- |
| Template site name | launch.fyi |
| Number of templates | 8 |
| Pricing | free |

Jason is awesome. He has been around for ages, helping out people with Carrd a lot for free on Facebook and he's active on Twitter also. Among other things he runs plugins.carrd.co and sells Carrd add-ons like navbars and an accordion FAQ. It is not exactly a template site but maybe offers a building block for the Carrd website you are building.
tinybuild – Carrd Templates
A couple of templates for simple sites. Some a little rough around the edges. Could be interesting if you run a restaurant and need a simple website.
| | |
| --- | --- |
| Template site name | tinybuild |
| Number of templates | 6 |
| Pricing | $10 |
David Diaz – Carrd Elements
David has designed two nice templates and sells them on Gumroad. One for a portfolio website, the other is a tech company website template. Sad he does not offer more.
Ed Ruiz – UHDED
Some very simple Carrd templates. But they are also very free. Free as in free beer. If you are on a tight budget and top notch design is not a requirement you might find your template here.
| | |
| --- | --- |
| Template site name | uhded.com |
| Templates offered | 6 |
| Pricing | free |
House of Carrd
House of Carrd is selling some templates via Gumroad. Not the best choice if you are looking for high quality designs – typography and layout are not very balanced. Their pricing is also rather strange – an individual template is $37 – and you'll owe them $210 for five templates. Yep, that is $42 per template. Not the best deal.
More Carrd templates – on Gumroad
Every now and then a creator decides to sell their templates on Gumroad. This was more common when people could not offer and buy Carrd templates via Carrd directly. Now Carrd has the option to sell templates directly. But there are still some offers on there. Also a great place to get other Carrd resources like help and services. We also sell our Carrd tutorial and design services on Gumroad.
This search will show you which templates are available on Gumroad currently:
If we had to select a winner
We think the best place to get a Carrd template for your next project is:
🏆 Zite – for the largest collection and reasonable prices. 🏆
Well, we might be biased. But looking at it objectively – we offer the largest collection of Carrd templates and at great prices. We offer templates for any site complexity from simple to multipage. Plus almost all of our Carrd templates are just $19 (you'll get the UI component packages for $25 each, which is a steal to be honest). We have more styles to select from than anywhere else. And we're so convinced of the quality of our collection that we made this list. Check out what the community offers and get what you like best.
Want to help make this list better? Contact us at designzite@gmail.com
Happy creating in Carrd!
More from Zite
Check out all Carrd templates on a single page or select from out categories:
Browse Carrd templates by color
Browse Carrd templates by usage
Useful articles from our Carrd blog