Yes, Carrd is great for e-commerce. It is a fun and simple to use website builder – and you can go professional with it, too. Today we'll show you the options you have to sell products on your Carrd.co website. We will help you choose the online shopping platform that's right for your needs. You will be selling digital products and services in no time. Selling physical items as a retailer? We've got you covered, too.

Carrd e-commerce – Table of Contents
This article on e-commerce in Carrd covers the following topics:
Why sell on Carrd?
Selling digital and physical products on Carrd has many benefits. But is it right for you? Read on and you'll know right away.
Minimal investment – Carrd e-commerce sites are set up super quickly and the plans are very affordable. This enables you to test new products and services with minimal effort. An online shop in Carrd can be up and running in no more than a couple of hours.
Launch today – optimize tomorrow. The e-commerce platforms below will grow with your business. Even if you outgrow Carrd – you will likely be able to continue using your e-commerce platform.
Easy maintenance – Your shop site and product pages will be super easy to edit and update. No technical skills are required, really.
Integrations. The carrd.co editor comes with a couple of integrations, these make your life as a shop owner easy. E.g. there are widgets for Stripe and Gumroad. Other platforms like Lemon Squeezy may give you code snippets – you can easily add those using Carrd's 'embed' element.
Templates. There are many Carrd e-commerce templates that you can use to kickstart your shop and thus start selling even sooner.
Where to start?
Depending on what you want to sell and what your goals are, there are many different e-commerce options. Therefore we have done this write-up. It will help you get a sense of what each platform allows you to do so you can go and decide for one.
To build out your shop you'll have two basic options to choose from:
Build your shop directly in Carrd – You'll design and build shop pages in Carrd yourself. This means you have the full flexibility of the Carrd editor to design landing page and product pages. And you'll use an external platform only to collect the payment from buyers. This works with Gumroad, Lemon Squeezy and Stripe.
Integrate an e-commerce tool – In this model your products, descriptions, image and everything else lives on an external platform. You integrate a shop or product view into your Carrd website. As a result the design will be less flexible. But you'll be able to create a more complex shop with less work. This works with Gumroad.
Comparison matrix
Below is our rundown of e-commerce platforms that play nicely with Carrd. To make deciding easier for you, we have also compiled a big table comparing the platform features side by side. You'll find it at the end of this article. Of course, feel free to skip to the Carrd e-commerce comparison matrix now.
Don't want the spoiler? alright, let's look at Stripe first.
Selling on Carrd using Stripe

What is Stripe?
Stripe is just wow. In the matter of a couple of years they have matured from a tiny startup into a multibillion dollar company. Today, they offer just about any financial service an online business needs. This includes payments, billing, invoicing, bank transfers, splitting bills, commissions, payment fraud, and on and on. Stripe has always put emphasis on being self service – as a result every feature they offer can be integrated in other products using their API.
If you are looking at e-commerce in Carrd, chances are you are just starting out with selling products online. And Stripe can be your perfect partner in this situation, too. Even though you will probably be using only a small set of their offering. The product called Stripe Checkout is what enables you to sell products on Carrd with minimal effort.
How to use Stripe Checkout in Carrd?
Here's an overview. Check out the documentation for more detailed instructions.
Create a product and a price in Stripe (they are two different things in Stripe, read more)
Create your shop page in Carrd. Maybe get a Carrd ecommerce template to kickstart the design.
Put your product details (e.g. name, description, image, price) on your Carrd page
Add a Stripe checkout button via the 'Widget' element in Carrd
Boom. Customers click the button and buy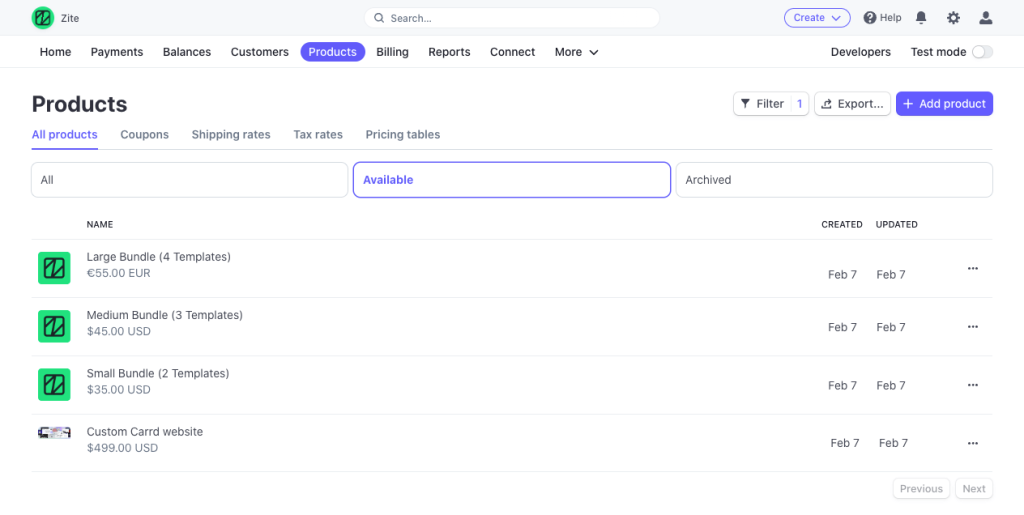 Benefits of selling on Carrd via Stripe
Lets you accept a lot of payment methods in a lot of countries (also see comparison below)
You can customizing the buying experience e.g. with a customized checkout on your own domain
You will probably never outgrow the Stripe ecosystem no matter how well your e-commerce business develops. You'll outgrow Carrd first.
Sell on Carrd with LemonSqueezy

What is Lemon Squeezy?
Lemon Squeezy is a rather new product – and they seem to be eating everybody else's lunch. They are adding features like crazy and have a super fast support team. As a result many content creators and companies are switching to Lemon Squeezy from other services for their low fees. The admin panel makes setting up products and getting sales stats actually joyful tasks.
Using Carrd to sell Lemon Squeezy products
Set up your products using their admin
Create a very simple products e.g. with just a name and price
Set up your Carrd online shop site (or maybe use an online shop template to kickstart things)
Create a product page with product image, name, description, maybe testimonials
Add a 'buy' button and point it to the Lemon Squeezy product page (using the button's 'URL' property)
In Lemon Squeezy you can also add an image and a product description. You can then use the payment page as your product detail page and link to it from Carrd. The Lemon Squeezy page looks a lot like checkout page, though. So this is not a great option.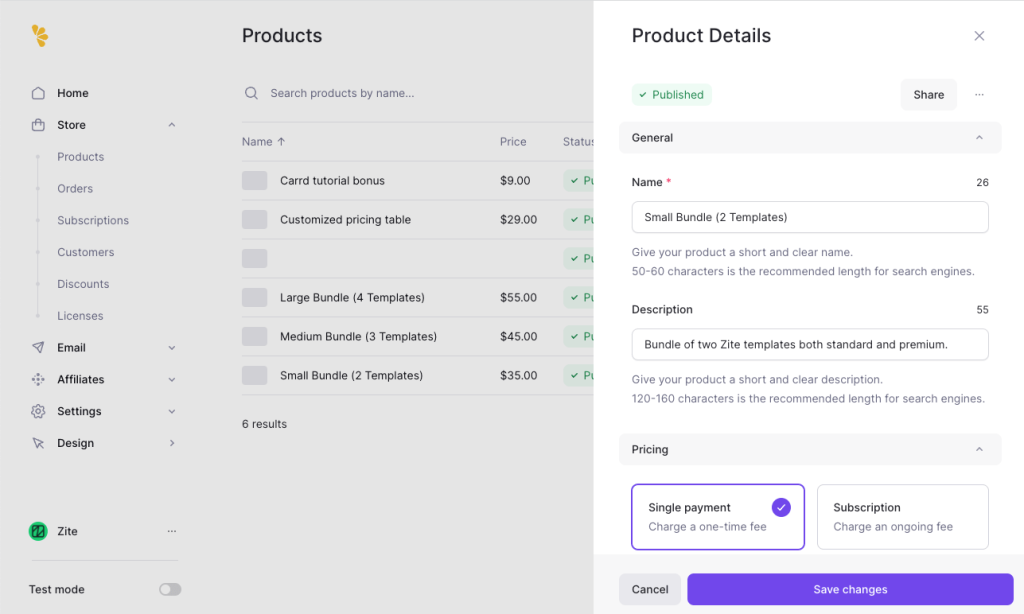 Pros of doing e-commerce in Carrd via Lemon Squeezy
Selling digital goods – setup is super quick no matter if you create a one-time purchase, subscription or free product (also see full comparison below)
Getting started quickly, the admin interface is well designed and snappy
Selling world wide – Lemon Squeezy will act as your 'merchant of record' and remove all the headaches of world wide sales tax. Read more about the topic.
Going cheap on fees. Gumroad offers more out of the box – but will charge a little more, too.
Build your Carrd shop with Gumroad

What is Gumroad?
Some will describe Gumroad as the OG of digital goods e-commerce platforms. Founded by Sahil Lavingia in 2011, the platform has come a long way. Today it is still the go to place for many content creators and retailers alike. Sahil is very openly sharing the story of Gumroad – there is a lot to learn for any entrepreneur in his book and tweets and Gumroad's public company board meetings.
How to set up Gumroad for your Carrd online shop
Start by setting up your product/s in Gumroad. The editor is pretty flexible and allows you to create a full product detail page You don't need to explore all the settings right away. Start with upload the files you want to sell (if any) and add a product name, image and description. Later you can add all information your customers might want to know.
Then create your Carrd site product page or pages (or get a Carrd e-commerce template as a shortcut). Either go for a multipage template or learn how to create pages using section breaks. (Our tutorial can show you how.)
Add 'buy now' buttons
Use Carrd's built-in Gumroad widget to add a buy button that links to your product (here's how)

In the widget enter the Gumroad product link
Choose the action for the buy button:

Carrd opens the Gumroad product description as a layer over your site by default
Alternatively, you can make the buy button open the Gumroad product page in a new window

Or create your own custom buy button, then point its link to the Gumroad product page
Embed the full Gumroad product page content
First copy the embed code for your Gumroad product from the hard-to-find Gumroad widgets page
Then add an 'Embed' element to your Carrd page (under 'Style' choose 'inline', paste into field under 'Code')
Next publish your site to preview the embedded product page. Carrd editor will only show the embed element.
Once it is set up and working tweak Gumroad and Carrd pages to create a coherent look
Our recommendation is always: Build a first version and start marketing, then tweak settings and do optimizations later. Launch today. It can be done.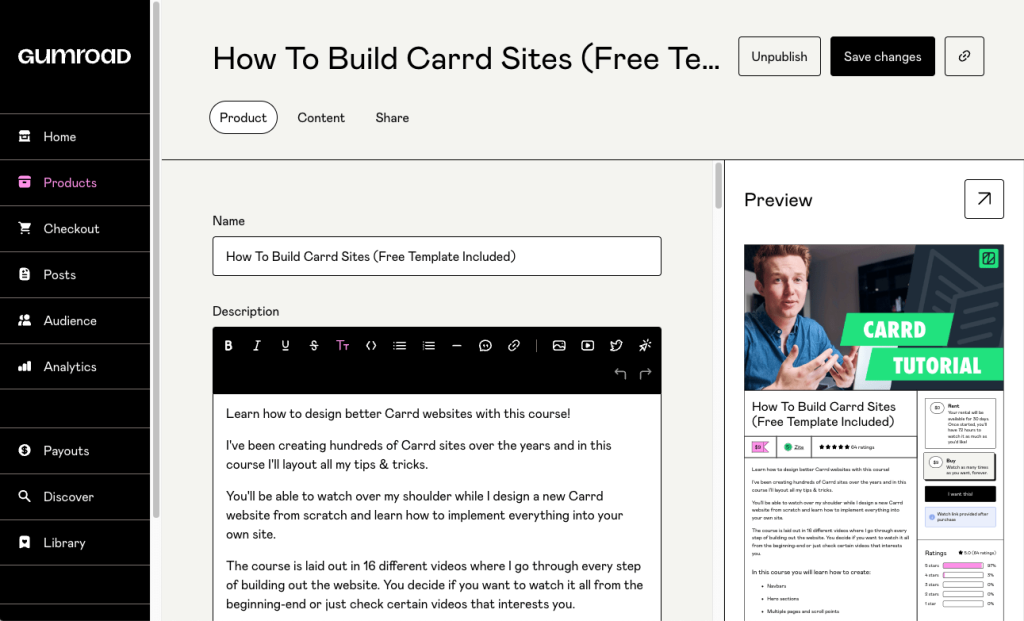 Why selling on Carrd using Gumroad is great
Allows selling of physical goods
Also enables you to sell digital products, memberships, and subscriptions (see full comparison below)
As a content creator you can protect your content using DRM to 'help keep customers honest' (as Gumroad puts it)
You can set up custom analytics in order to track traffic to your storefront page and your product pages
Pricing (as in fees) is flat and simple, so you won't pay extra for any feature
Gumroad's marketplace called 'Discover' that can give your product some extra visibility and even helps with SEO
Gumroad acts as your 'Merchant of Record'. (Huh?)
Integrated Carrd ecommerce using Sell.app, WooCommerce and ShopRocket
Coming soon, as we are still writing up our research for these platforms.
Alright, we have now looked at many details for three platforms. So here comes the feature shoot out.
Carrd e-commerce platforms comparison
This table allows you to compare all the e-commerce platforms side by side. Please note that some may be features of the platform itself, not something you will be able to do in Carrd. You are not sure about a certain feature? Reach out and we'll research it and add it for you.
Stripe
Lemon
Squeezy
Gumroad
Shop
Rocket
(coming soon)
Sell App
(coming soon)
Products and pricing
Sell physical goods
yes
no
yes
Sell digital products
yes
yes
yes
Sell subscriptions
yes
weekly
monthly
yearly
monthly
quarterly
biannually
yearly
and more
Product variants
yes
yes
yes
Free products
no
yes
yes
Pay what you want
no
yes
yes
Purchase power parity pricing
no
via ParityDeals *
yes
DRM
no
no
yes
Marketing
Coupons
yes
yes
yes
Refunds
yes
yes
yes
Affiliate model
via Rewardful *
yes
yes
Upsell
no
no
yes
Email marketing
no
yes, paid
(free for 500 subs)
yes, included
Abandoned basket
recovery emails
no
yes **
no
Fees
2.9% + $0.30
+ depends
fee details
5% + $0.50
+ sometimes more
fee details
10% flat

fee details
Shop features
Shopping cart
yes
yes
yes
Store front page
no
yes
yes
Product categories
no
no
no
Product detail pages
no
(yes)
yes
Custom analytics
no ***
Google
Facebook Pixel
TikTok
and any other
Customize shopping cart
branding
colors
custom domain
no
no
Sell internationally
135+ currencies
95 currencies
yes
Sales tax
yes,
paid
yes
yes
Misc
Merchant of record
no
yes
yes
Invoice documents
yes
yes
yes
Payout options
Bank wire
Bank wire
Paypal

from $50
always in USD
200 countries
Bank wire
Stripe account
Paypal

from $10
in your local currency
any PayPal country
Stripe
Lemon Squeezy
Gumroad
(coming soon)
(coming soon)
* We have not tested Rewardful or ParityDeals in connection with Carrd
** Offered but not very customer friendly. Emails can't be configured by merchants (you). Subject is 'Did you forget something?' which is borderline offensive when talking to a customer. Of course they didn't forget it.
*** But it is on their roadmap
Please note: we have done thorough research for this article. But we can't guarantee the correctness of the information and statements in the article. They may have changed without our knowledge. Please double check with the service providers' current offering before spending time and money.
Summary
At first glance Stripe, Lemon Squeeze, and Gumroad may look the same. They all fulfill the basic requirements of selling online. But they do offer different sets of functionality that may or not be suited to your business and type of products.
So yea, we hope you found this article helpful for picking your e-commerce platform. Happy selling!
Carrd e-commerce templates
When creating your shopping website in Carrd you can use a template as a kickstarter. You'll get a ready made design and can worry less about colors and font. This lets you spend more time on building your shopping empire. Templates are fully customizable so you can adjust any details to your liking.
Browse our e-commerce templates for Carrd.
More from Zite
At Zite we help you launch your site – no matter the level of your Carrd or e-commerce expertise. Our offers range from self-teaching resources to full blown agency work. Always with the goal of getting your business off the ground.
You want to learn how to make a Carrd website? Get our Carrd video tutorial.
Looking for a way to shortcut design work and use a template? Browse our Carrd templates.
Want expert help in creating your site? We also do custom website design.
Read the latest from our Carrd blog
Credits: title image uses a photo by Karolina Grabowska